PointeShoes-News
PointeShoes-News is brought to you by Ballet-Feetfirst. If you have gotten this far you may have noticed that we started out by giving you information on the DO's and DON'Ts of pointe shoes. How to fit, what to watch out for when fitting pointe shoes, sewing ribbons, elastics, the care and maintenance of the shoes, including FAQ section.
The news you can use, not use or don't even want to know.
PointeShoes-News covers several topics on dance, events, competitions, articles, dance exhibits. For dancers, topics on nutrition, music, auditions, dance performances local, regional and around the world.
Buterfly in Ballet Pointe Shoes
For all ballet dancers, no matter what level be it beginner, intermediate, advanced or professional dancer in a ballet company, it you think pointe work is hard see this video of someone who is rather unusual in ballet pointe shoes.
International Dance Behavior
ARGENTINA
This is probably more humorous than serious to visitors, occasionally more serious than humorous to locals: women should never ask a man to dance in tango dance halls (called milongas). The custom, adhered to more or less strictly, is for the man to cabaceo (give a nod of the head with inviting - eyes) to the woman.
Likewise, foreign men in tango salons who don't want to dance should NOT make eye contact with women. Men are always in short supply, and women will expect to dance a tanda (a set of three songs).
Worse yet is for a man or woman to try to dance tango without having had at least a few weeks of basic lessons. I've had only two incidents - once with a German, once with a frenchman, both of whom thought they could fake it. I politely led them off the floor (embarrassing for them, not me).
But a local might not be so kind. There are many codigos (codes) in the tango scene, but this is the one most often breached by foreigners.
Camille Cusumano is a writer from San Francisco who has been living for the past nine months in Buenos Aires and working on a book about tango.
DANCING IN BALLET POINTE SHOES IN LONDON AT THE OLYMPICS IN 2012?
World Dance Day messageApril 29, 2002
Yo puedo bailar en un templo sin profanarlo
(I can dance in a temple without profaning it).
Vicente Escudero (1892-1980), Spanish flamenco dancer
These eight words give the essence of good dance. They should be our compass in cases when commercialized dance in the rich countries deviates towards a meaningless sequence of movements.
Choreography is corrupted by the frantic quest for innovation.
Dance teaching is degraded by the blind concentration on steps.
Dance research is impoverished by the idealization of structure analysis.
Too often we forget to ask ourselves if this or that dance is really beautiful, if it carries values, if it will resist the ultimate test of time.
Dance in itself is not sacred, but it can stand beside the sacred, as a means to transcend reality, a tool for liberation, a way of acquiring another self.
Not all creations can be fit to dance in a temple - just as we cannot always wear Sunday clothes.
We therefore need to educate the public in developing qualitative criteria: how to tell "Sunday dances" from "everyday dances".
Our dances should at least be good enough to dance outside a temple.
Prof. Alkis Raftis
President of the International Dance Council CID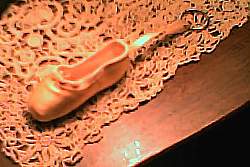 Dancers and dance companies are known to use a great deal of dance shoes. Did you ever wonder how many were used for "Riverdance" during a ten year span?
During that time, the show has played over 8,000 performances and has been seen by more than 18 million people across 4 continents! The company has traveled over 500,000 miles (the equivalent of going to the moon and back) and has sold over 1,200,000 show programs. There have been 28 marriages between company members who have worn 9,000 costumes and used 12,000 pairs of dance shoes!
In the past decade, some 1,200 Irish dancers have been employed to fill the show's three touring companies. Between them, the performers have 17,500 cumulative years of study in Irish step dance and have rehearsed for 12,000 hours while on tour.
The dancers have consumed 150,000 gallons of water and 48,000 pounds of chocolate for energy! The show's technical crew have used 4,500,000 pounds of dry ice on the stage and changed over 10,000 stage light bulbs, while "Riverdance" musicians have replaced 15,500 guitar, bass, and fiddle strings.
Dance History (NEWS) for Dance History Enthusiasts
Ballet Pointe Shoe History
On the Google web site there are 1 of about 22,100 listings on pointe shoe history. This is where students of ballet, specially ones who are taking pointe classes, will find lots of useful information on the subject of shoes. When were they made? How were they made? What are they made of or from what materials? How long do they last? Who are the manufacturers of pointe shoes?
All this and more can be found on the search engine of Google.com by typing Ballet Pointe Shoe History.
The following excerpt on Pointe Shoes should be of interest to all ballet dancers dancing on pointe
Pointe Dancing
Marie Taglioni is given the credit for being the first ballerina to dance on pointe but no one is really sure. She did perform La Sylphide on pointes (1832) and was certainly a pioneer who developed the technique which was responsible for revolutionising ballet.
Toe dancing was transformed into an artistic expression. Needless to say her grace, lightness, elevation and style earned the adoration of her audience and she subsequently enjoyed a brilliant career. She wore well fitting soft satin slippers with a leather sole. The sole and sides of her shoes were reinforced with darning but the tip her pointes was left free. Her dance technique mirrored the bare foot.
The dancer's alignment was different and she was less vertical, less straight up and down, with her hips released back and her upper body tilted slightly forward. Her Russian fans loved her so much they were reported to cook her discarded slippers and eat them with a sauce. The Old Pointe Shoe
The ballerina shoe was considered as an extension of her body and intimately related to her profession and art. It was the shoe, which made the dancing possible.
The conventionally made, old style pointe shoe often had a span of only one performance. Due to their frailty, the danseuse would require to replace her shoes at least once during a performance. This was because the box became too soft to brace the toes adequately, or the shoe shank lost its stiffness.
The toe box was made from layers of burlap and paper saturated with glue. These would often swell with wear and conform to the foot, however the suppleness required for dancing was temporary because the toe box eventually became too soft. The shank or midsole was made from cardboard or fibreboard and steel shanks were seldom used.
The shoes were held together by glue, stitching and small nails with the outer satin material gathered in pleats under the toe. Irregularities or lumps like pleats made the shoe unstable. The original pointe shoes offered no protection to the feet and ankles. Female pointe dancers tended to suffer many foot ailments, with stress fracture, tendinitis and black nails common.
Old Pointe shoes started off rigid when new and had to be 'broken in' by the dancer. The breaking in process took many hours and was done in several ways. These included manually flexing the shoe back and forth, jumping on it, jamming it in a door, bashing it with a hammer, soaking it in warm eater or alcohol and scraping the sole.
The New Pointe Shoe
The new pointe shoe allows the dancer to poise indefinitely on tiptoe. It is her strength and technique, which bring her from the normal standing position. Once on pointe she maintains the position by contracting the muscles of her feet, ankles, leg and torso to pull her up put of the shoe. Without proper training and technique any attempt to toe dance will meet with injury.
For that reason children are never encouraged to dance on pointe. Dancers train for several years in soft slippers before they wear pointe shoes. Then only a few minutes of each class are devoted to special pointe exercises. Eventually dancers progress to wear pointes for long active periods until they can complete the whole class.
PERFORMING ARTS TIMELINE
534 B.C. Thespis wins the first public contest for tragic poets in Greece, and the term thespian derives from his name. He also introduces masks, which become a staple of Greek and Roman theater.
525–385 B.C. The Athenian or Classical period introduces a dramatic era of tragic poets that includes Aeschylus (Agamemnon, 458 B.C.), Sophocles (Antigone, 441 B.C.; Oedipus Rex, 430 B.C.) and Euripides (Medea, 431 B.C.). Euripides, considered the first choreographer, incorporates dance into his plays.
350–250 B.C. The Hellenistic or Colonial period marks an era when comedy is preferred over tragedy. Old Comedy, buffoonery and farce that often attacks individuals and portrays the foibles of a social class, evolves into New Comedy, a more polished and refined humor that centers on the shortcomings of the middle class. Comic drama moves from politics and philosophy to everyday life.
C. 500–800 Theater is all but extinct in both the western and eastern Roman Empires during the Dark Ages because Christians oppose the entertainment.
C. 900 The church introduces dramatic performances to Easter services, acting out the story of the Resurrection. Ironically, the institution that discouraged theater is responsible for its rebirth.
1495 Everyman, the best surviving example of a morality play, is written. The morality play touches on large contemporary issues with moral overtones and describes the lives of everyday people facing temptation.
1489 Ballet is performed for the first time.
1550 Commedia dell'arte flourishes in Italy and Western Europe. Literally "professional comedy," the theater form features improvisation from a standard script and stock characters.
1570 Count Giovanni Bardi debuts the Elizabethan masque, an aristocratic form of entertainment that features music, dance and elaborate costuming.
1576 The Theatre, the first commercial theater, opens in London. It is also the first Elizabethan playhouse.
1594 The Chamberlain's Men, the leading Elizabethan and Jacobean theatrical company of the day, is formed. William Shakespeare is the chief playwright and Richard Burbage its most famous actor. After 1603 the group is known as the King's Men. The Admiral's Men, the group that performs the works of Christopher Marlowe, is also formed and rivals the Chamberlain's Men.
1597 Jacopo Peri's musical fable, Dafne, often considered the first opera, is performed at the palace of Jacopo Corsi. Opera becomes the preferred entertainment of the aristocracy.
1598–1608 William Shakespeare writes Much Ado About Nothing, As You Like It, All's Well That Ends Well, Julius Caesar, Hamlet, Othello, King Lear, Macbeth and Anthony and Cleopatra.
1607 Claude Monteverdi's Orfeo, regarded as the first masterpiece in opera history, is performed and revolutionizes music by establishing a tonal system and giving the recitative a more flexible accompaniment.
1619 Teatro Farnese in Parma, Italy, uses the proscenium arch for the first time.
1637 Venice becomes the home of the first public opera house, the San Cassiano Theater.
1642–1660 Following the civil war of 1642, the Puritans close or burn down all English theaters and forbid acting.
1643 Molière incorporates an acting troupe called Illustre Theatre. Although initially unsuccessful with his troupe, Molière goes on to be one of history's most famous and enduring playwrights. His work includes Tartuffe (1664), Misanthrope (1666) and Bourgeois Gentleman (1670).
1660 Women start appearing in French and English plays. Elizabeth Barry and Anne Bracegirdle are among the pioneers.
1661 Louis XIV officially recognizes dance instruction by establishing the Académie Royale de Danse.
1665 William Darby's Ye Bare and Ye Cubb, reportedly the first English-language play presented in the colonies, is performed in Accomac County, Virginia.
c. 1670 Pierre Beauchamps codifies the five foot positions in ballet.
1681 Pierre Beauchamps and Jean Baptiste write Le Triomphe de I'Ammour, which features LaFontaine, the first woman to dance professionally in a ballet.
1685 Alessandro Scarlatti founds the Neapolitan School of Opera, which establishes the da capo, or three-part aria.
1689 The young women at Josias Priest's finishing school in Chelsea, England, perform Henry Purcell's Dido and Aeneas, the first English operatic masterpiece.
1730 Romeo and Juliet, the first play by Shakespeare to be presented in America, is performed in New York.
1733 La Serva Padrona by Giovanni Pergolesi is performed in Naples, heralding the popularity of opera buffa or comic opera.
1734 French ballerina Marie Camargo stirs controversy when she raises dancing skirts above the ankle for greater freedom of movement.
1735 Ballet arrives in America. Englishman Henry Holt stages the first production for the amusement of the Charleston, South Carolina, elite. John Hippisley's Flora, the first opera performed in America, is also presented in Charleston, South Carolina.
1751 The first professional theater company in the colonies, the Virginia Company of Comedians, opens a temporary wooden playhouse in Williamsburg, Virginia.
1762 Christoph Willibald von Gluck's Orfeo ed Euridice premieres at the Hofburgtheater in Vienna, marking revolutionary changes and reform in opera seria.
1766 The first permanent American theater building, Southwark Theater, is erected in Philadelphia.
1778 Milan's Teatro alla Scala, Italy's leading opera house and one of the world's most renowned, is built.
1786 Mozart collaborates with Lorenzo da Ponte on The Marriage of Figaro, which premieres in Vienna. He completes Don Giovanni the following year, and it premieres in Prague.
1816 Gaslighting is used for the first time in American theater at Philadelphia's Chestnut Street Theatre. Thomas Drummond invents the limelight, which is used in the same manner as the spotlight is used today.
1828 Minstrel dancing debuts with Thomas Dartmouth "Daddy" Rice appearing as Jim Crow in a song-and-dance act.
1830–1850 The Romantic period in ballet sees ballerinas making technical and artistic strides in the art form. Until this period, men dominated the stage.
1843 The Theatre Regulation Act of 1843 bans drinking in legitimate theaters. Many tavern owners take advantage of the situation and renovate their establishments to accommodate live performances.
1859 The French Opera House, the first great opera house in America, is built in New Orleans.
1865 Former circus clown Tony Pastor opens the first variety theater in New York.
1868 Lydia Thompson and her British Blondes bring burlesque to the United States.
1871 Giuseppe Verdi's Aïda premieres in Cairo, Egypt. The first collaboration of W.S. Gilbert and Sir Arthur Sullivan, Thespis, is performed at London's Gaiety Theatre.
1876 The first complete production of Wagner's Ring, a titanic cycle of four musical dramas, opens the first Bayreuth Festival.
1879 Henrik Ibsen's A Doll's House, a revolutionary play that centers on the repression of women, deeply offends conservatives and thrills a newly awakened European conscience when it premieres at the Copenhagen's Royal Theatre.
1881 The first modern cabaret, Le Chat Noir (The Black Cat), opens in Paris. London's Savoy Theatre opens and is the first to be lit by electricity. Vaudeville debuts at Tony Pastor's New 14th Street Theater in New York.
1883 The Metropolitan Opera House opens in New York with Gounod's Faust.
1890 Modern dance emerges when choreographers and dancers begin to rebel against traditional ballet.
1900 Floradora opens at Broadway's Casino Theatre. It introduces the Floradora sextet, a predecessor to the chorus line.
1901 Founder of the Moscow Art Theatre, Konstantin Stanislavski formulates the revolutionary Stanislavski Method of acting, which requires actors to see and hear on stage as they do in real life, enabling them to react to theatrical situations in the same way they would in real life. He is credited with launching the age of the great director in modern theater.
1902 Claude Debussy introduces impressionism in Pelléas and Mélisande at the Opéra Comique in Paris.
1904 The London Symphony Orchestra is established. Anton Chekhov introduces modern realism at the premiere of The Cherry Orchard at the Moscow Art Theatre.
1905 Isadora Duncan establishes the first school of modern dance in Berlin.
1907 Florenz Ziegfeld introduces his Ziegfeld Follies, the legendary musical extravaganzas.
1909 Serge Diaghilev opens the Ballets Russes de Serge Diaghilev, which begins the era of modern ballet and his 20-year reign as ballet's leading figure. Moving away from full-length works characteristic of Romantic ballet, he creates new, shorter ballets. Mikhail Fokine is Diaghilev's choreographer and is considered the most influential choreographer of the 20th century.
1911 Der Rosenkavalier, Richard Strauss's masterpiece, premieres in Dresden.
1913 Darktown Follies opens in Harlem and helps to make Harlem a black cultural center.
1915 Ruth St. Denis and her husband, Ted Shawn, establish the Denishawn dance school in Los Angeles, where Martha Graham and Doris Humphrey study.
1920 Eugene O'Neill's first full-length play, Beyond the Horizon, is produced on Broadway and wins a Pulitzer Prize, marking the beginning of modern American drama. Rising popular interest in African-American literature sparks the beginning of the Harlem Renaissance.
1921 The Cleveland Playhouse opens, becoming the country's first resident professional theater.
1922 Karel Capek's play R.U.R. debuts, introducing the word "robot."
1923 Harlem's Cotton Club opens and presents all-black performances to white-only audiences. Entertainers include Lena Horne, the Nicholas Brothers and Cab Calloway.
1926 Martha Graham, the American pioneer of the modern-dance revolt, gives her first New York performance, which features 18 barefoot, evocatively costumed dancers.
1927 The Broadway musical links with opera in Jerome Kern's revolutionary Show Boat. Dancer Isadora Duncan dies when her scarf gets caught in the wheel of a moving car.
1930 Jean Rosenthal, one of the greatest lighting designers in theater history, pioneers the concept of stage lighting.
1932 Manhattan's Radio City Music Hall opens.
1933 Sally Rand's fan dance is a hit at the Chicago World's Fair.
1935 George Gershwin combines black folk idiom and Broadway musical techniques in Porgy and Bess.
1943 Rodgers & Hammerstein's Oklahoma! opens and changes American musical theater by combining entertainment and serious subjects. Agnes de Mille choreographs the musical, capturing the essence of American folk dance.
1945 Benjamin Britten's Peter Grimes premieres in London, which signals the rebirth of British opera.
1946 George Balanchine and Lincoln Kirstein establish the New York City Ballet. It makes its home at Lincoln Center in 1964.
1947 Tennessee Williams's A Streetcar Named Desire opens at Broadway's Ethel Barrymore Theatre, with Marlon Brando as Stanley Kowalski and Jessica Tandy as Blanche DuBois. The play wins the 1948 Pulitzer Prize.
1950 Broadway classic Guys and Dolls debuts at the 46th Street Theatre and becomes an instant hit. The show ran for three years and became one of the Great White Way's longest-running shows, with 1,200 performances.
1951 Yul Brynner makes his first appearance as the king of Siam in Rodgers and Hammerstein's The King and I. Gertrude Lawrence costars (March 29).
1952 Jose Quintero's revival of Tennessee Williams's Summer and Smoke premieres at Broadway's Circle in the Square Theatre and is the first major Off-Broadway success. Merce Cunningham forms his own dance company.
1954 Robert Joffrey Ballet debuts.
1957 Leonard Bernstein's West Side Story debuts on Broadway and brings violence to the stage. Eugene O'Neill's A Long Day's Journey Into Night is produced posthumously and wins both the Tony Award and Pulitzer Prize.
1958 Alvin Ailey establishes the American Dance Theatre.
1962 The first dance concert is held at New York's Judson Memorial Church, marking the beginning of the Judson Movement and postmodern dance. Judson dancers also introduce the use of a performance space instead of a stage. Judsonites include Meredith Monk, Trisha Brown and Lucinda Childs.
1966 The old Metropolitan Opera House is abandoned as the company moves to Lincoln Center. The new Metropolitan Opera opens with Samuel Barber's Antony and Cleopatra.
1968 The rock musical Hair opens on Broadway.
1971 The Kennedy Center for the Performing Arts opens in Washington, D.C. with the premiere of Leonard Bernstein's Mass.
1974 Premier Russian dancer Mikhail Baryshnikov defects and joins the American Ballet Theatre.
1980 Mark Morris establishes the Mark Morris Dance Group in New York and is widely received as the most promising modern-dance choreographer of his generation.
1982 Cats opens on Broadway. Becomes Broadway's longest-running play.
1983 Harvey Fierstein's Torch Song Trilogy wins the New York Drama Critics' Circle Award and Tony Award for best play, marking the acceptance of gay theater.
1995 The Metropolitan Opera installs screens on audience seats that display captions, to attract a wider audience.
Compiled and edited by Richard Finkelstein.
http://Arlsynx.org
This is quite an interesting list. Many dancers, choreographers, dance teachers are listed who are still with us or have passed away. Let us know what you think.
1 27th Anniversary of when the US Copyright Law begins specific recognition of pantomimes and choreography as copyrightable subject 78th Anniversary of the birth of Maurice Bejart 12th Anniversary of the death of Phyllis Hill Ferrer Overton 68th Anniversary of the birth of Charles [Chuck] Rudolph Davis
2 78th Anniversary of the birth of Yuri Grigorovich 102nd Anniversary of the birth of Sally Rand (Harriet Helen (Hazel) Gould Beck) http://www.streetswing.com/histmai2/d2srand1.htm 191st Anniversary of the date when Lord Byron completes The Corsair 88th anniversary of the birth of Ballet Russe de Monte Carlo dancer (and 1928 wife of George Balanchine), Vera Zorina (b. Eva Brigitta Hartwig
3 Anniversary of the birth of ballet librettist Boris Kochno
5 30th Anniversary of The Broadway premiere of the musical The Wiz, with choreography by George Faison 9th Anniversary of the death of Lincoln Kirstein 74th Anniversary of the birth of Alvin Ailey http://www.artistswithaids.org/artforms/dance/catalogue/ailey.html 5th Anniversary of the death of Lucas Hoving 416th Anniversary of the death of Catherine de Médicis
6 81st Anniversary Nijinska's Les Biches 237th Anniversary of the birth of John Durang, First American professional male dancer to gain widespread recognition 12th Anniversary of the death of Rudolf Nureyev 121st Anniversary of the death of Italian choreographer, Paul Taglioni
7 64th Anniversary of the birth of Georgi Aleksidze
8 114th Anniversary of the birth of Bronislava Nijinska
9 19th Anniversary of the death of Lucia Chase Anniversary of the birth of Lithuanian ballerina, Ruta Jezerskyte 91st Anniversary of the birth of Gypsy Rose Lee (Rose Hovick) 33rd Anniversary of the death of Ted Shawn
10 81st Anniversary of the birth of Ludmilla Chiraeff 101st Anniversary of the birth of Ray Bolger 34th Anniversary of the death of Gabrielle Coco Chanel 112th Anniversary of the world premiere of Magic Flute in St. Petersburg to music by Drigo
10 81st Anniversary of the birth of Ludmilla Chiraeff 101st Anniversary of the birth of Ray Bolger 34th Anniversary of the death of Gabrielle Coco Chanel 112th Anniversary of the world premiere of Magic Flute in St. Petersburg to music by Drigo
11 65th Anniversary of the premiere of Lavrousky's Romeo & Juliet 65th Anniversary of the debut performance by American Ballet Theatre
12 67th Anniversary of the birth of Anna Kisselgoff Anniversary of the birth of Jose Limon 104th Anniversary of the birth of Kurt Jooss 121st Anniversary of the birth of Louis Horst 103rd Anniversary of the birth of Victor Gsovsky 197th Anniversary of the birth of Paul Taglioni
13 65th Anniversary of the premiere of Bolm's version of Peter & the Wolf 100th Anniversary of the birth of Oliver Messel 79th Anniversary of the birth of Gwen Verdon 81st Anniversary of the birth of Roland Petit 89th Anniversary of the birth of Bella Lewitsky
14 203rd Anniversary of the death of Marie Allard 101st Anniversary of the birth of Cecil Beaton 77th Anniversary of the birth of Gerald Arpino 23rd Anniversary of the world premiere of Louis Falco's Black and Blue, at the Teatro Olimpico, Rome
15 115th Anniversary of the premiere of Sleeping Beauty 65th Anniversary of the US Debut of Tudor's Lilac Garden 226th Anniversary of the birth of Jean Coralli 18th Anniversary of the death of Ray Bolger 1st Anniversary of the passing of Italian dancer, Delia Scalia
16 114th Anniversary of the death of Léo Delibes 89th Anniversary of the birth of Rudolph Benesh 55th Anniversary of the birth of Debbie Allen
17 47th Anniversary of the premiere of Balanchine's Stars & Stripes 162nd Anniversary of the Italian premiere of Giselle 43rd Anniversary of the premiere of Balanchine's A Midsummer Night's Dream 58th Anniversary of the birth of Ulysses Dove http://www.artistswithaids.org/artforms/dance/catalogue/dove.html 79th Anniversary of the birth of Moira Shearer 78th Anniversary of the birth of Eartha Kitt, who started in Dunham's company 85th Anniversary of the birth of prima ballerina, Nora Kaye 15th anniversary of the death of Nancy McKnight Hauser
18 69th Anniversary of the birth of ballet designer, Ian Spurling 180th Anniversary of the debut of the present Bolshoi Theatre 107th Anniversary of the premiere of Raymonda
20 195th Anniversary of the death of Maria Danilova 16th Anniversary of the death of Michael Lland 89th Anniversary of the debut of the authorized Fokine production of Les Sylphides 95th Anniversary of the birth of Nina Verchinina 126th Anniversary of the birth of Ruth St Dennis
20 195th Anniversary of the death of Maria Danilova 16th Anniversary of the death of Michael Lland 89th Anniversary of the debut of the authorized Fokine production of Les Sylphides 95th Anniversary of the birth of Nina Verchinina 126th Anniversary of the birth of Ruth St Dennis
21 134th Anniversary of the birth of Olga Preobrajenska 99th Anniversary of the birth of Igor Moiseyev 77th Anniversary of the death of Loie Fuller
22 143rd Anniversary of the birth of Loie Fuller 101st Anniversary of the birth of George Balanchine (new style. Old style date is Jan 9) 1st anniversary of the death of dancer/actress Ann Miller 1st Anniversary of the passing of Anne Miller
23 149th Anniversary of the premiere of Le Corsaire 96th Anniversary of the birth of Nina Anisimova 74th Anniversary of the Death of Pavlova 11th Anniversary of the passing of designer,ABT founder, Oliver Smith 99th Anniversary of the birth of Lester Horton 72nd Anniversary of the birth of Chita Rivera 41st Anniversary of the death of Louis Horst 19th Anniversary of the death of dancer,choreographer, Charles Moore
24 80th Anniversary of the birth of Maria Tallchief
25 52nd Anniversary of the death of designer Sophie Federovich 89th Anniversary of the Debut of Fokine's Petrouchka in The US 36th Anniversary of the death of Irene Castle 24th Anniversary of the death of Adele Astaire 55th Anniversary of the birth of dancer, Virginia Alma Fairfax Johnson
26 52nd Anniversary of the creation of Tensile Involvement by Alwin Nikolais 69th Anniversary of the premiere of Tudor's Lilac Garden
27 110th Anniversary of the premiere of Swan Lake 52nd Anniversary of the birth of Frank Augustyn 72nd Anniversary of the birth of Nicolais Fadeyechev 56th Anniversary of the death of Boris Asafiev 57th Anniversary of the birth of Mikhail Baryshnikov 249th Anniversary of the birth of Wolfgang Amadeus Mozart
28 100th Anniversary of the birth of Serge Peretti 45th Anniversary of the Royal Ballet (Britain) premiere of Frederick Ashton's La Fille Mal Gardee 32nd Anniversary of the death of Fyodor Vasilievich Lopokov
29 39th Anniversary of the Broadway premiere of the musical, Sweet Charity with Choreography by Bob Fosse 14th Anniversary of the death of Muriel Stuart 65th Anniversary of the birth of Steve Paxton 12th Anniversary of the death of French dancer, Michel Renault
30 48th Anniversary of the death of Boris Georgievich Romanov 85th Anniversary of the birth of Rosella Hightower 75th Anniversary of the birth of Actor, Director, Dancer, Choreographer, Costume Designer,Jeoffrey Holder 85th Anniversary of the birth of George Skibine 69th anniversary of George Balanchine's Broadway debut, arranging dances for the current edition of Zigfield's Follies
31 68th Anniversary of the birth of Bruce Marks