Search for Pointe and Ballet shoes...and MORE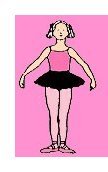 Remember. Ballet shoes are really difficult to fit than other dance shoes.
WHAT YOU SHOULD KNOW ABOUT BALLET SHOES
The following is a reprint. A very good article about ballet shoes.
Article Source: http://www.articlealley.com Author: Masni Rizal Mansor
If you have a daughter, there is undoubtedly some point in your life where you will need to purchase ballet shoes. That being said, many boys are choosing to take ballet as well. When it comes to buying ballet shoes you may be completely clueless on what to look for. If you danced yourself, you will have a better idea of what you need. You child's teacher may also tell you exactly what to get. Some teachers even let you order the shoes right through them, which is very easy on parents. If you are on your own however, you should think about these three qualities to look for when shopping for ballet shoes.
Great Fit
The first thing you should always do is to make your child come along with you. It will be very important that they try the shoes on to ensure that each shoe has a great fit. You will want to use tights when trying on shoes, for socks will provide a completely different fit in the shoe. Check to see if the shoe is snug and secure on your child's feet. It is important that the shoe offers a snug fit. You won't want it coming off in the middle of a dance. Many ballet slippers will have a small elastic strap on the shoe that will help keep the shoe in the proper place. When it comes to children, the strap is essential. Be sure that your child dances around in the shoe to be sure it is comfortable for them. Listen to what they are saying and take in their opinion.
Quality Materials
When it comes to shoes, you will need to think about quality. You can pay $5 for the most inexpensive pair you can find, however you will likely be replacing them several times throughout the year if you do so. Pay a little more to get shoes that are made from great materials. You can find leather or suede combination ballet shoes that will last the entire season. Many will have a leather sole, which will be helpful for the wearer to feel the floor properly. Expert ballerinas will tell you that the manner in which your shoe allows you to feel the floor is an important part of dancing well. Some shoes will be hand stitched while others will be factory made. It really doesn't matter when it comes to a beginning dancer on which to choose. As long as they seem durable and well put together, they should be fine.
Flexible Design
Ballet shoes should be several things, and one of them is flexible. Your ballet shoes should be rather flexible in order to get the best results from your dancing. While some dancers prefer a little more support, most children will need very flexible styles. You should be able to bend the shoe without damaging it in most cases. The more flexible the design, the more comfortable and natural the shoes will feel. In turn, the more natural they feel, the better dancing results. Beginning dancers should not purchase Pointe ballet shoes. Some people get a little confused if they have never danced. Trained ballerinas should only use pointe shoes. So, be sure that you are looking at the right design before you purchase. You can ask your teacher to be sure.
Sizing
Keep in mind when you are shopping that certain types of shoes will fit differently. Even the smallest thing can cause you to need a size smaller or larger. That is why the best thing to do is have the dancer present when shoe shopping. You can also order your shoes online, but be sure to look around at the sizing charts to be sure you are getting the proper size. Many will tell you how to estimate size based on your street shoe size. Some will be the same size as your street shoe size, while others will tell you to order a half size smaller and such. Also be aware of any refund or exchange policies when you purchase, whether you purchase online or locally. You will want to have the opportunity to bring them back if they are incorrect in any way.
If you have read the previous pages about ballet pointe shoes, the fitting, taking care of them, sewing the ribbons and elastics, perhaps you need more information.
Did you take a look at the FAQ? I hope you did.
Did you fill out the box on "specific questions on Pointe Shoes"? I hope you did.
Did you know that the more people who ask questions, the more we, you, students, teachers, and the people who make the pointe shoes, appreciate the input. In other words, we all benefit from these questions and answers. These shoes are the most difficult dance shoes to fit. (And you thought street shoes are difficult).
To be able to find more information on the web about pointe shoes and ballet shoes, the Web gives you many choices. You have to know which search engine will give you all the information needed. After all, you did find this page. How? By getting on the Web on one of your favorite search engines, typed in pointe shoes and before you knew it, you had a zillion Websites to look at.
Well, I'm glad you found us. Information is what it's all about.
To search for just about anything on the Web without jumping to one search engine to another,
you will find pointe shoes and ballet shoes here. After using this fantastic search tool, come back and look into the Open Directory.
Here you will find a vast category list of Arts, Music, Performing Arts, Movies, Television, Sports etc....
Or, would you like to read more on dance while you are on this page? then go to Pointe Magazine and read up and enjoy.